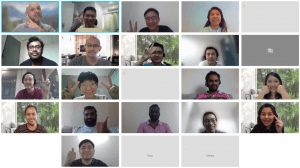 Our recent virtual class! In support of safe management in light of COVID19, classes may be run virtually.
Course duration: 1 days, 9am – 5pm
"I equate Scrum to the game of chess. You can read the official rulebook for chess. The moves, players, sequences, scoring, etc. are all specified. Learn them. Then you can play chess." by Ken Schwaber, co-creator of Scrum
There are no upcoming events at this time
Hoon Wee is an experienced IT professional with broad international experience in managing IT shared services, project management and end-user support. He is well versed in both waterfall and agile practices, being a PMP, PRINCE2 Practitioner, AgilePM Practitioner and Certified Scrum Master. Hoon Wee has performed advisory roles for organizational change strategies related to process design, optimization and implementation.
A consummate service professional at heart, Hoon Wee displays exceptional client service and communication skills with abilities to develop and maintain outstanding client relationships and is able to manage multiple engagements and competing priorities in a highly challenging, flexible, interactive and results-based team environment.