ISO20000:2018 Assurance Service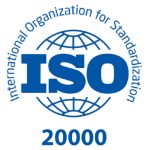 Quality should mean doing the right thing even when no one is looking. Does your IT SMS (Service Management System) become a hot topic only because of impending audits?  Did you do well in audits but still fall short of business and customer expectations?
We instill confidence in your IT Service Management (ITSM) practice so that you can continue to achieve and exceed the objectives you need to excel in a competitive marketplace. Understand the effectiveness of existing policies and processes; and the degree of compliance to the defined policies and processes.